Whats New at Newport Resort in 2019?
New year, new Newport Resort! As we welcome a whole bunch of new families, couples, and friends in 2019 as well as greeting many familiar faces, we have some exciting changes and room upgrades to share with you.
If you've stayed with us before, you know that we are always looking for ways to create a fun-loving, family-friendly atmosphere where you can relax and make some memories with the ones you love.
With many, exciting updates in the works this year, we believe your stay in Egg Harbor at Newport Resort will be more enjoyable than ever before!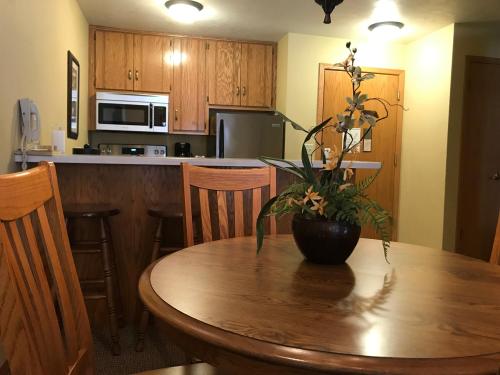 No More Continental Breakfast
Traditionally, we have offered continental breakfast to our guests. In an effort to reduce food waste, strengthen community, and avoid rate increases, however, we've decided to discontinue this offering as of February 19th.
"Being so conveniently located within walking distance of amazing local coffee shops and cafés, our guests will really appreciate exploring all the delicious breakfast options our village has to offer," Sandy D'Amico, Newport Resort General Manger said. "Plus – we're really enhancing our in-room experience to create a super relaxing atmosphere with top-notch amenities."
With this change, our rates will remain competitive while providing the flexibility to add more value to your stay in a variety of other ways.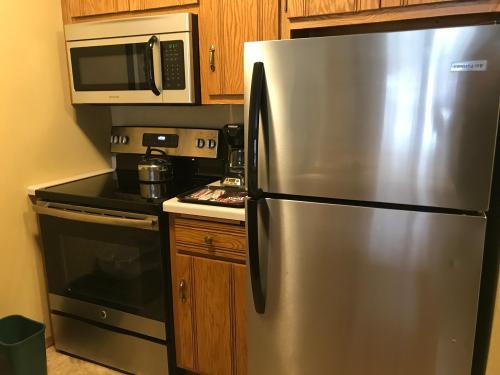 Stainless Steel Appliances
The process of cooking a delicious meal can be a relaxing vacation activity, and many of our guests choose to utilize the full kitchen provided within their comfortable suites.
To help you prepare, cook, and clean up in-style, we've upgraded all of our units with new, stainless steel appliances including ovens, microwaves, refrigerators, and dishwashers this year.
After all, you deserve the best.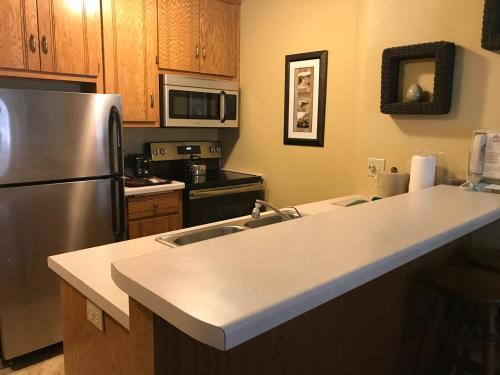 New Granite Counters & Kitchen Faucets
Plans are also underway to make additional kitchen updates in 2019; the most significant being new granite counters and kitchen faucets.
We cannot wait to unveil these dazzling beauties, which will complete the sleek and modern overall feel to our updated kitchens.
Be sure to keep an eye on our social media channels for an official announcement once the new counters have been installed.
New Stainless Coffee Makers & 4-Slice Toasters
Speaking of simple, yet elegant touches, we're also in the process of adding stainless steel small appliances to each unit. This includes the likes of quality coffee makers and versatile 4-slice toasters.
For families, this means more toasted bread, bagels, english muffins, Pop-Tarts – you name it – in less time, so you can enjoy them sooner.
Door County Coffee with Larger Mugs
A great coffee maker, however, is only as good as the coffee it brews. That's why we're also upgrading the in-room option to bags of delicious, premium grounds, courtesy of Door County Coffee & Tea, Co.
You'll definitely want to sip and savor more than a single cup of this local specialty brand, so we have taken it upon ourselves to provide larger Newport Resort mugs for you to enjoy it in as well. Morning can't come soon enough.
More Exciting News is on the Way!
"We're so excited about the changes we've made thus far and can't wait for everything else that's on the way this year." – Sandy D'Amico, Newport Resort General Manager
We'll soon have even more intriguing updates to share with you, including upgraded local food items for purchase at our Newport Market (list still being finalized).
You can also anticipate a guide to the "Best Local Breakfast Options in Egg Harbor," which we're currently putting together and look forward to sharing with you in a few weeks, so stay tuned.
In the meantime, feel free to make a reservation online or give us a call at 920-868-0099.